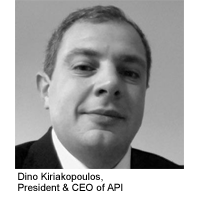 Craig Hamilton, Managing Consultant at Page Personnel Engineering & Manufacturing, speaks to Dino Kiriakopoulos, President & CEO of API, a leading global manufacturer and distributor that employs more than 550 people across 15 locations.
What's your background, and how did you become President and CEO of API Group?
I was born and raised in Canada, and completed a chemical engineering degree and MBA. I joined Sonoco's Canadian office in 1995 and worked there for a few years then got transferred to Europe to build a green field paper mill in Greece. Through hard work and dedication I rose through various levels of management throughout Europe and lived in Greece, Belgium before moving to the UK in 2002. By the time I left Sonoco I was Director of Industrial Operations Europe which included 35 tube plants five paper mills and a recycling division.
I joined API a little over two years ago as the Managing Director of the laminates division to help bring in world class manufacturing and better commercial processes. The API CEO and the Board wanted to change the dynamic of that business and I was pleased to join them. About a year later we were taken over by Steel Partners Holdings, a long-term shareholder, and the CEO role at API became available. OUR good track record in the laminates division over the previous 18 months let Steel consider me for the President CEO position which I took up in September 2015.
Are you enjoying it?
Yes, it's great! Steel Partners have a disciplined approach to how they want to see their businesses grow and perform. So it's been good to be able to drive change forward with the support of the organisation.
Bringing in the Steel Business System has been extremely positive as it has introduced a disciplined and lean approach to manufacturing, commercial, and back office operations. This allows us to bring a consistent '1 API Face' to our customers. We have had some good talent additions to the business and we're doing quite well.
To what do you attribute your success?
I think there are a lot of reasons. The first reason is being in the right place at the right time, and being blessed with some very good bosses and mentors.
The second reason for any success is the team around you. I have always had or built good teams and there are also a couple of other elements. Being able to see value in something where others don't, recognising where there are opportunities quickly, and the willingness to take a calculated risk.
I have also been lucky with a great family. They are a huge part of my success.
Can you describe what your typical "day at the office" looks like?
I don't think you can describe a typical day, but there are a standard series of business processes and meetings I will follow on a regular basis. I'll spend time reviewing our strategic deployment process with the team leaders and with my management team to make sure we're aligned. I spend a lot of time looking at human resource and talent issues in the business.
I also travel 25% of my time and that's mostly spent with customers or at our own manufacturing and distribution facilities, to make sure that I don't lose sight of what's important to our customer, and to reinforce our Business System processes in our plants.
What do you think the perception is of the API Group against other competitors in the same market place and internationally?
The difference between us and our competitors is the breadth and scale of what we are able to provide, and the experience we have with luxury brands. Ultimately for us, it's about creating shelf-appeal for brands and helping those brands increase their sales with attractive, eye catching packaging. API is a recognised leader in this field.
What makes API unique as a global brand?
Our customer first approach is to be a genuine solutions provider. We can have brands come in to us and say we would like to create more shelf-presence, we can have a printer come in and say we need to reduce waste on this product. Through our skills and experience our technical department, our customer service, our sales and our creative development group, we are able to truly provide a custom solution. Competitors just ship a product, whereas we actually go out and service the customer from design stage right through to printing, mock ups, then on-the-shelf performance to that product. I think there are very few businesses in our field that are able to do what we do.
What do you regard as the being the biggest challenges for API?
I think our challenge is understanding the opportunities we have with customers and working out how we can serve them best.
What would you say are the current opportunities overseas?
Each region brings its own challenge. However fundamentally, they have a common link and that's the consumer's aspirational nature.
Within more mature consumer markets like North America, Australia, New Zealand and Europe, there is a trend for "Premiumisation". There are a number of different products that have sub segmentations such as premium, super premium and even own brand premium. There is a significant opportunity for us in the mature markets with the "Premiumisation" of certain brands. France, Italy, Germany, Switzerland are already huge markets for us, with Poland, Turkey, and Russia growing rapidly.
This is a global trend. In Asia, where a lot of our business is, it's being driven by the burgeoning middle class wanting premium products like champagne, whisky, tobacco, or Belgian chocolates.
Africa also holds a growing potential for us, and we have worked in South Africa, and also the MENA region as well.
It seems as if API are in a great position to take advantage of those consumer aspirations
I think what the really interesting thing of API is if you look at some of the biggest and most popular luxury brands in the world, they have been packaged or have been touched by an API substrate or creative help. Our products are proven to attract the consumer to buy that product. We are proud of the track record we have of working with brands and obviously looking at building our portfolio.
Moving into recruitment, what do you look for in a new recruit?
The first things that I look for in a new recruit is and the ability to come in with a high energy level and strong work ethic.
Someone that is not willing to work with the right philosophy is going to have a very difficult time working in this organisation. Things need to be executed, on time and correctly, so the energy and attention to detail are important. The intellectual rigour and curiosity of the person are both very important as well.
The ability to work within a team is vital. The work environment has changed for leaders. It's more about motivating and building your team's skills and confidence rather than just directing them.
A candidate should do their research on API before they arrive here. People that are coming in for interviews should have some good insights into what we do and know a little bit about me too as well.
What is the most disappointing thing a candidate can do at an interview?
One of the basic questions is "Why are you here?", and if they can't understand the attractiveness of being in our business or understand a little bit about what API does and they don't know why they are here, that's a disappointment.
What is the funniest thing you have come across at interview?
I was interviewing in Manchester (England), and the weather there isn't always perfect. So the candidate turned up for an interview and I could see that he was a dedicated cyclist. It was pouring rain outside and he showed up riding his bike. He came in looking like a wet sponge and I found that slightly amusing. Probably not a good judgement call for himself to come in riding his bike to an interview though.
What is your killer interview question?
It depends on how the interview evolves. I really like a candidate to pitch themselves to me. If people have a tough time talking for five minutes about themselves then that's an interesting way to see how they would think on their feet in their role.
How do you switch off from a hard day in the office?
When I'm not travelling I try to make sure that I get home in time to see my two young girls and to read them a story before bed. Having the time to sit there and have a chat, a cuddle, and find out how their day went as well, is brilliant. It very much grounds you. You have to be able to be willing to make time for your children and your spouse when you can, as you need their understanding as well when you are putting in very long weeks.
Time wise, how do you balance a hectic work life with a healthy home life as well?
There are a few basics. You need a company culture and a boss that understands that having a balanced life is important.
Secondly, if you have holidays and you are not using them at all then you are not a great manager. It is very difficult sometimes to take a break due to emergency projects etc., but that should be the exception, not the rule. If you show me a manager that can't take a few weeks off a year, that manager hasn't really planned or built a team.
If you have the right team, build the right work culture and delegate appropriately, then everyone can support each other. This then allows everyone to have a life away from work and I think that's very important.
Craig Hamilton
T: +44 141 331 7947