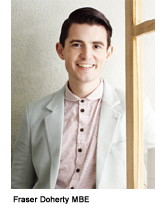 Craig Hamilton, Managing Consultant at Page Personnel Engineering and Manufacturing, spoke to award winning entrepreneur Fraser Doherty MBE about his successful career, entrepreneurial skills, and what he looks for in a new recruit.
Here are a few of the awards that you've won to date: (2004) Enterprising Young Brit Award, (2007) Outstanding Young Person of The World Award, (2007) Young Entrepreneur of The Year (2007) Global Student Entrepreneur of The Year, (2010) Inc. Magazine 30 under 30 Award, and (2011)Top 10 in `Times Young Power List'.How did you become an award winning entrepreneur?
I got my start as a fourteen-year-old in my grandmother's kitchen. She shared her jam recipes with me and then I started making jam, selling it door to door in the neighbourhood. After coming up with a way of making jam 100% from fruit, I managed to get my products into the major supermarkets.
If you had the chance to start all over again, what would you do differently?
All kinds of things! You make mistakes every day as a start-up and I think one of my biggest lessons was about the importance of great packaging design. Originally, I thought that if my packaging was funny enough, people would buy my product. So we created labels based on a comic book idea – I was 'Jam Boy' a superhero character when I pitched the idea to the supermarkets. They didn't see the funny side.
What is your greatest fear, and how do you manage it?
My biggest fear as an entrepreneur is that my idea will fail but I think that I can always manage that fear by appreciating that even if my concept doesn't work, I will surely learn something from the process that helps me to succeed the next time around. As long as you look at entrepreneurship as an adventure and failures as an opportunity to learn, the setbacks won't be so painful.
How did you establish the cultural tone of your agency?
We have a small team but for me, fostering a unique culture is really important. I think that it is by building a good culture in your business that you can get the most out of people, help them to shine and ultimately, beat the competition. I try to give everyone maximum freedom to come up with their own ideas and try things out. I think this can sometimes be stressful but I believe that giving people freedom helps them to develop their skills faster.
Moving into recruitment, what do you look for in a new recruit?
For me the most important thing is that someone is passionate – we can teach them a lot of the other stuff. If they have the right attitude – are willing to work hard, take on feedback and come up with their own ideas, then they'll be a good fit for us.
What is your killer interview question?
I always ask people what their dream job is or at least where it is that they're trying to get to in their career. You'd be amazed at the number of people who describe something completely different to the job that's on offer, which makes the process a little easier.
Excluding yours, what company or business do you admire the most?
There isn't one company that I admire the most but we have learned a lot from companies like Ben & Jerry's, Brewdog, Graze, Lush, Innocent, Airbnb. I could list dozens. I think as an entrepreneur you are always taking inspiration from other companies and other brands.
What's are you currently working on?
Our online craft beer subscription club, Beer52, is growing very fast. We've had more than 100,000 people sign up and worked with over five hundred different breweries. Every month we put together a different selection of eight different beers for our members to try. They love discovering different beers from around the world, delivered to their door.
Finally, what three pieces of advice would to give to budding entrepreneurs?
1) Start small.
2) Seek feedback from customers.
3) Do something you love.
Craig Hamilton
T: +44 141 331 7947
M: +447467000128