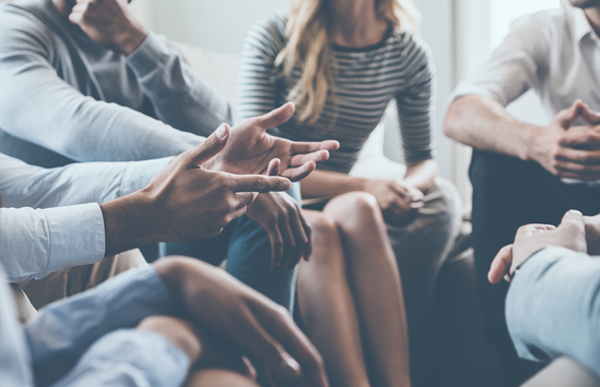 Mental health issues have a significant impact on employee wellbeing and are a major cause of long-term absences from work. This is why it is important for employers to promote good mental health and provide support to employees who are experiencing mental health issues.
The subject of mental health has become more prevalent in the workplace. In fact, Mind, reports that one in four people in the UK will experience a mental health problem each year, and in England, one in six people report experiencing a common mental health problem (such as anxiety and depression) in any given week.
As professionals spend such a large amount of time at work, how can managers help foster a positive working culture and support their employees in managing their mental health?
Identifying mental ill-health in the workplace
Whether you are managing a team of full-time employees who work in the office, a team of professionals that regularly works from home, or a team of project interims – as a manager, it is your responsibility to effectively guide and support your team.
The sooner mental health issues are identified within the workplace, the sooner you are able to act. Once identified, it is crucial to offer support to those employees experiencing or recovering from mental health issues. Where necessary, it might even make adjustments to ensure those with a mental health issue can thrive and make a positive contribution at work.
Any changes in behaviour could be a sign of mental ill-health. In fact, there is no one sign that an individual is suffering or struggling with their mental health. This is why promoting a positive working culture, whereby there is an increased awareness of mental health issues across the workforce, can help break the silence and start to build a more open and inclusive culture. This, in turn, will help employers identify issues and act upon them sooner.
Creating a healthy working culture
A positive work culture is really about creating an inclusive one. Everyone is different and should be celebrated for that fact. People should be allowed to be themselves, their true authentic selves both in and out of work.
The role of a manager is to create a positive and inclusive working environment that allows everyone to celebrate being themselves without fear of prejudice. In many instances, actions speak volumes, and while it's not always possible to vocalise that you promote a diverse and inclusive culture, consistent and frequent outward signs and symbols of inclusion can be really powerful. Consider the impact of wearing a green ribbon (worn to symbolise mental health awareness), or drinking from a rainbow pride mug at work.
Supporting professionals' mental health
It is important for employers to make suitable adjustments for any employee identified with a mental health condition. These adjustments will ensure that all employees feel included and have the opportunity to thrive in the workplace. Another way to assist employees is to ensure that they have access to necessary specialist support – EAP, private health providers - CBT sessions etc.
At PageGroup, we believe in acceptance without exception. This means that we provide support to all and embrace the differences of our people. We have launched a number of successful D&I programmes, but on Disability Awareness Day in 2016, we launched [email protected] Through storytelling, employees shared their personal stories about how living with a disability affects them or a close family member. Some were physical disabilities, others were about mental health. They helped break down any barriers there may have been, either actual or perceived, about a disability restricting your career. Line managers receive regular training and support to effectively look after themselves and how to identify the signs in others. Our EAP (Employee Assistance Programme) is confidential, operating 24/7, and our private healthcare provider offers CBT sessions.
Mental wellbeing is important for all of us. It is important for everyone to understand that suffering from a mental illness or with mental wellbeing doesn't mean you don't want to or can't work. What is paramount is creating an environment where speaking out about it is okay. Feeling like you belong, and are part of an inclusive culture.
If you would like to have a conversation about building a more diverse and inclusive working environment, or discuss how we can help find talented professionals for your business, please request a call back from Page Personnel today.
Steven Wheller
Operating Director, Page Personnel Finance