Last week, Page Personnel Finance and Michael Page Finance hosted a breakfast seminar for senior finance professionals across London. The guest speaker was from the Bank of England who presented and explained the findings from the November inflation report. On the whole, the message in relation to employment and wage growth was positive.
The key points of the presentation are highlighted below.
Q3 growth was down a little on expectations
Commodities prices were significantly down, whilst Oil prices were 60% down on 2014 numbers
The housing market slowed with construction down 6% (however, it had grown in the first six months of 2015)
Unemployment continues to fall to 5%
Wages continue to increase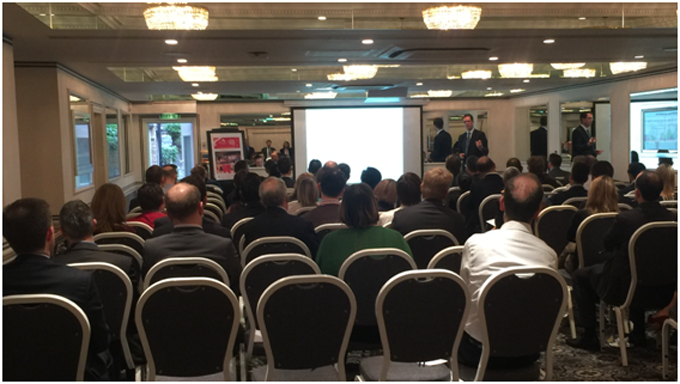 Our guest speaker from the Bank of England discussing the November inflation report.
What does this mean for finance companies looking to recruit in the current market?
With unemployment rates now back to pre-recession levels, demand for quality finance candidates has started to outstrip supply. There is little slack in the workforce of organisations as resources are being used at optimal levels, which has meant an increase in the number of vacancies as we close on 2015. Finance professionals are also being well looked after at their current companies in the form of bonuses, salary increases and regular training and development. This means there is some reluctance to move which adds to the candidate shortage.
Coupled with this, productivity in the economy seems to be improving. One reason for this is that companies seem to be investing more in their employees and the demand for highly skilled workers is increasing, moving away from the demand for more low skilled jobs seen in recent years. Companies looking to attract these highly skilled workers will need to adopt agile, targeted approaches and look to contact these 'passive' candidates. It is crucial to construct a realistic recruitment strategy which is modern, flexible and easily adaptable depending on need.
Wage growth continues to increase but is not quite back to pre-recession levels. The main growth area seems to be in new starting salaries, showing that recruitment strategies are becoming more aggressive in order to prise the top talent out of their current roles. Wage growth in general terms is growing a little slower but is catching up.
Currently candidates have more options available to them than at any other point in recent memory; companies need to look at what investment they are putting into their workforce in order to firstly keep them, and also attract new talent. Not only in the salaries and packages they are offering, but also to work life balance, training and development opportunities. With fewer candidates on the market the war for talent is intensifying; companies with the most attractive all round package and the most efficient recruitment processes are likely to come out on top.
The seminar proved a great opportunity for attendees to get some firsthand insights into the current market and how it pertains to their recruitment needs. Feedback from delegates has been positive and we will certainly be looking to hold future events.
For a confidential conversation about your finance recruitment options contact Adrian Tomsa, Associate Director at
Page Personnel Finance
.
T: +44 207 269 2432