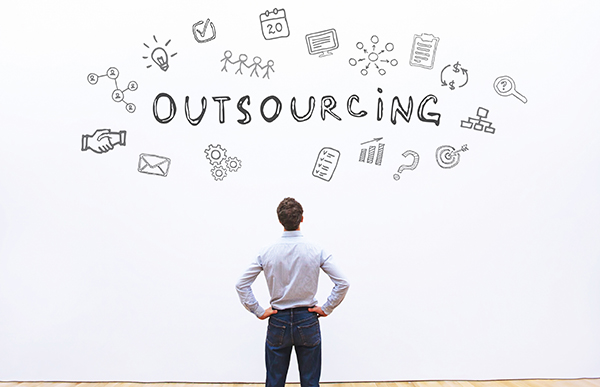 Often unnoticed and occasionally underappreciated, the smooth operation of many businesses relies heavily on an efficient facilities management strategy. Whether delivered by an in-house estates and facilities management team or outsourced to specialist providers, effective facilities management is often a key function to allow your core operational staff to work productively in their roles.
With continued growth in the outsourcing and services sectors, organisations will consider contracting some or all of their facilities management service lines to specialist providers. Here are some of the key reasons that businesses choose to outsource facilities management services:
Cost-savings
Specialist knowledge
Innovation and new technology
Service consistency
Delegation of people management and HR responsibility

Furthermore, different types of service can be outsourced to external companies, and this allows leaders to choose what works best according to the needs of the business.
Soft services
Soft facilities management services that businesses might outsource to ensure the working environment is safe, secure and pleasant to work in will include:
Cleaning
Catering
Security
Landscaping
Front of House/Concierge Services

Hard services
Hard facilities management services are often outsourced as they require greater technical capabilities and knowledge to keep buildings running effectively, and to ensure they are safe and legally compliant.
Planned, reactive mechanical and electrical maintenance
Asset management and lifecycle planning
Energy management
Building management systems
Capital projects

The disadvantages of outsourcing facilities management services
There are both pros and cons when changes are implemented throughout a project or outsourced services. A disadvantage to outsourcing these services is that you may find that you have a lack of control over how these are delivered across your estate. You may also find that you become reliant on the outsourced team to deliver effective performance and quality control. When in reality, you will likely have to oversee works to ensure that they are being fulfilled to your standards.
Lastly, there has been some instability in the market in terms of outsourcing these services. This is because large facilities management businesses have closed, which has meant that organisations are choosing to work with smaller, independent, or SME businesses to provide their services instead.
The advantages of outsourcing facilities management services
Despite the challenges of outsourcing facilities management, there are key advantages to consider when determining whether this would be the best option for your business. When outsourcing the works that your business may find difficult or time-consuming to cover, the time that previously would have been spent doing these tasks is freed to focus on your core business activities.
When outsourcing, you are likely to reach out to professionals that are highly skilled in that area, and who have access to the best technology needed to fulfil their work most productively and efficiently. With this in mind, you can feel confident that your work is being carried out using the best practices possible through the use of the latest technologies.
What to look for when you are considering outsourcing
It can be difficult to decide which business to work with, as there are so many to choose from and many different services on offer. For ease, a single provider could deliver all facilities management services, or a number of specialists could be engaged.
Having undertaken a thorough procurement process, the success of an outsourced facilities management contract is often reliant on the strength of the relationship between the organisation and their provider. It is important to make sure that you are outsourcing to an organisation that you can form an effective and strong partnership with, as this will make communication easier and streamline processes through continuous improvement. If you partner with an organisation that aligns with the needs and values of your business, then they will likely be able to adapt their services to best meet the demands of your business.
The business that you work with should be agile, and may even have an open-book policy when it comes to pricing, which will give absolute clarity on costs, allowing the focus to be on effective service delivery.
If you are looking to discuss outsourcing, or you wish to hire temporary or permanent staff to your organisation, get in touch with one of our specialist recruitment consultants today. Alternatively, submit a job spec, and we will call you.