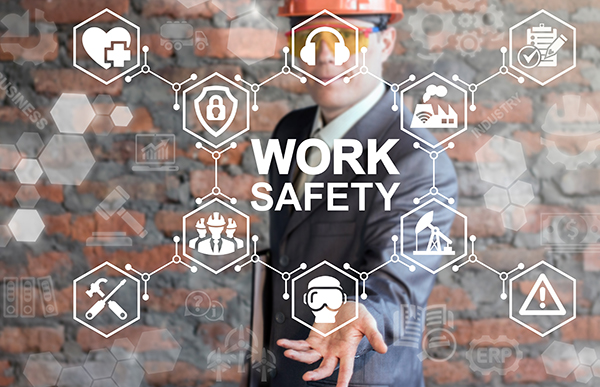 "ISO has developed a standard that will help organisations to improve employee safety, reduce workplace risks and create better, safer working conditions, all over the world."
Occupational health and safety has been at the forefront of construction and engineering business agendas since its conception. Therefore, the ISO 45001 legislation that was published in March 2018 has been deemed by the British Safety Council as a 'natural progression' for organisations opting for better practices when it comes to workplace physical and mental health. This management system is a new international standard for occupational health and safety, which provides a framework for businesses to manage risks in the workplace, as well as helping to reduce injuries at work.
Why we need ISO 45001
According to the ILO website, on average there are more than 2.78 million deaths per year, as a result of occupational accidents or work-related diseases. They also stated that there are 374 million non-fatal work-related injuries per year, which adds up to four days of absences from work. Unsurprisingly, this will have a negative impact on the bottom-line. This new standard is the world's first international standard for occupational health and safety, which should significantly improve the current statistics on workplace injuries and illnesses.
According to ILO, "ISO 45001:2018 is an ISO standard and has been designed to have greater compatibility with existing ISO standard management system revisions including ISO 9001:2015 and ISO 14001:2015."
The benefits of implementing ISO 45001
Here are a number of ways that implementing ISO 45001 will positively affect your organisation:
• Positions your business as industry leaders.
Implementing the most up-to-date occupational health and safety standard will show that you are driving your business forward alongside the market.

• Demonstrates that you are actively facilitating continuous improvement and best practice.

• It provides a platform to attract lower insurance premiums.
The standard proves that your organisation is performing strong due diligence in managing and protecting their employees.

• Improves managerial oversight.
This particular ISO ensures responsibility and ownership lies with safety management personnel or top-level management.

• Preventative risk and hazard assessment rather than a reactive process.

• Increases productivity through fewer lost time incidents.

• Deals with risk and opportunities.
OHSAS 18001 and other previous standards primarily deal with the risks, whereas this legislation also focuses on any potential opportunities.

• Improves morale and staff retention.
The occupational focus that takes your employee's physical and mental wellbeing at work into account.

The importance of retention in specialist sectors
Both the property and construction and engineering and manufacturing sectors, like many others in today's market, are candidate led. Meaning that it is difficult for businesses to hire top talent on the market, as there are more roles available than professionals looking for new opportunities. Therefore, it is important to keep hold of your best people, here are some of the key ways that you can do that:
Offer a continuous development programme so your people don't feel stagnated in their current position.
Aim to build a diverse workforce that will encourage more people from different walks of life to remain working for your business, ensuring the company is progressive.
Set-up a mentoring scheme to help your teams to continue to develop and learn from current members of the business. This can help both junior and senior members of staff.
Develop an inclusive and productive company culture, this will help people to feel as though they can bring their whole selves to work and thrive whilst doing so.

Here at Page Personnel, we can help you to develop your teams and build a team of people who are committed and talent in their roles. If you are interested in hiring top talent in Health and Safety or in any other professional capacity, get in touch with one of our specialist consultants today.
Alternatively, if you are looking for new career opportunities, our consultants can help you take the next steps in your career. Make use of our Job Match tool to discover what doors your skills and experience can open for you.