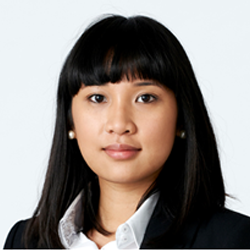 Karen Abbatuan graduated from the University of Southampton in 2008 with a 2:1 in International Relations. She then completed the GDL at BPP Law School and went on to work in government affairs in Brussels at Microsoft before completing the LPC. After the LPC, she completed a two week work experience placement at Freshfields Bruckhaus Deringer within Financial Disputes and Competition and from there secured a four month role at Societe Generale. Through Page Personnel, she secured a role at Nabarro as a paralegal in their Funds and Indirect Real Estate team where she has been working since January 2015. 
Hattie Roberts at
Page Personnel Legal
caught up with Karen, to find out how things are going at Nabarro and whether the job has been all that she hoped it would be.
1.Has this role met your expectations based on the job description, recruitment process and interview? Is it what you thought it would be like?
It definitely has superseded any expectations I had of this role. I was so surprised when I got the job and was really happy with the whole process. Right from the start, I feel I had support from Page Personnel - from initially meeting the consultant, to being briefed on the role and then it snowballed from there. I didn't think it would be so quick! I definitely felt like there were no surprises – the interview was tough, but I had been told what to expect. 
2.How is your previous experience helping you in the role?
I think everything right from the GDL and the LPC to my previous role at Societe Generale has helped me move forward to this role. Particularly with the LPC, it is very much the theory behind what you are then putting into practice and when I finished it, I was keen to get started in a role. One of the things that I was prepared for was long hours, as that is something you have to accept in a City law firm! What makes it worth it is if you are enjoying what you are doing and being part of a supportive team. If your work genuinely interests you then the longer hours don't matter. I feel like I'm working towards my career goals.
3.What are you learning?
I have already learnt so much. I have definitely learnt to take initiative; if I feel like there's a moment when I don't have much to do then I will go and ask the associates or partners if there is anything I can do to help. I think the impression you make is really important and so I want to ensure I am doing everything I can to help and taking every opportunity offered to gain experience and learn more. 
4.How are you finding the company culture?
Everyone here works hard but then can enjoy and socialise together as well. After work drinks when we're celebrating are always fun as well as taking part in a charity pub quiz to get to know what my colleagues are interested in besides the law!  
5.How does it compare to your previous company (and role)?
As it is my first legal role, Nabarro is certainly different to anything I have done before. What I couldn't get over was how involved everyone is at every level – there is a collective feeling that the whole department is working on something, not just more junior members.
I think the atmosphere here is also different in that it is corporate yet relaxed – everyone speaks to everyone and there is very much an 'open door' policy. 
6.What has been the biggest surprise since you started?
It's definitely the amount of involvement and responsibility that I have been given, right from the start. During my handover, the best advice I was given by my predecessor was 'If you want responsibility, ask for it' so I made sure I introduced myself to everyone in the department and explained that I was ready to get involved and help in any way I could. 
7.What is the best thing about working there so far?
I was given the opportunity to work on a large scale property portfolio acquisition and restructuring. We were all busy in the office – everyone from the partners to trainees, to paralegals and secretaries were getting stuck in. Working as part of a legal team alongside highly ambitious clients is what excites me most about this role and confirms to me that I am at the right environment to, hopefully progress to become a solicitor.
8.What training and development opportunities have you had/will you have in the future? 
e.g. Mentorships, courses etc.
From day one I have been given the opportunity to attend the same training as associates and trainees as well as any talks or meetings that I am interested in and would be beneficial for me to attend. After working for a month, I had a meeting with HR for them to check that everything was going OK so I do feel that there is excellent support there for me to progress.
9.Why do you think you were chosen for the role? What set you apart from the rest?
I think it was a mixture of my experience and my interview. So much responsibility is given to paralegals at the firm so they need to be sure you can handle it (and have the ambition to try and progress).
10.What advice would you give to others who are looking for or starting a similar role?
Keep an open mind. I think you need to make sure you don't close yourself off to a certain role or a certain firm before you've even interviewed there. I definitely feel I'm guilty of that in the past! Enthusiasm is definitely another thing – making sure that in the interview you get across that you want the job and want to work for the firm. 
If you are interest in applying for a similar role, feel free to contact Hattie or browse our latest
legal jobs
.
T: +44 207 269 2115