Let's get the sparks flying
At Virgin Atlantic, we're not your nine-to-five corporate company. We were founded with the intention of shaking up the aviation industry, and we've been changing the game, helping people to take on the world one step at a time ever since.
We're on the lookout for our kind of people to join our contact centre teams. People who're open-minded, asking "what if?" and "why not?". People who're switched on, ready to change the game. People who take on each challenge as it comes. Seven-week on-boarding programme, including a four-week training course. It's fast-paced and turbulent at times, but we believe it makes things…well, just a bit more fun.
There's loads to love working here, from our be yourself culture to perks that will leave you flying high, literally. Take a look around to see if we're the place for you (we may be biased, but we think you'll be a big fan).
Our values
If you ask anyone what they love the most about Virgin Atlantic, they'll tell you it's the people that make us the place to be. Our values are part of our DNA and entwined into all aspects of the experience we create. So, whether you're designing a customer's once-in-a-lifetime trip, applying for a new role at Virgin, or simply going about your day-to-day business, our values support and guide us.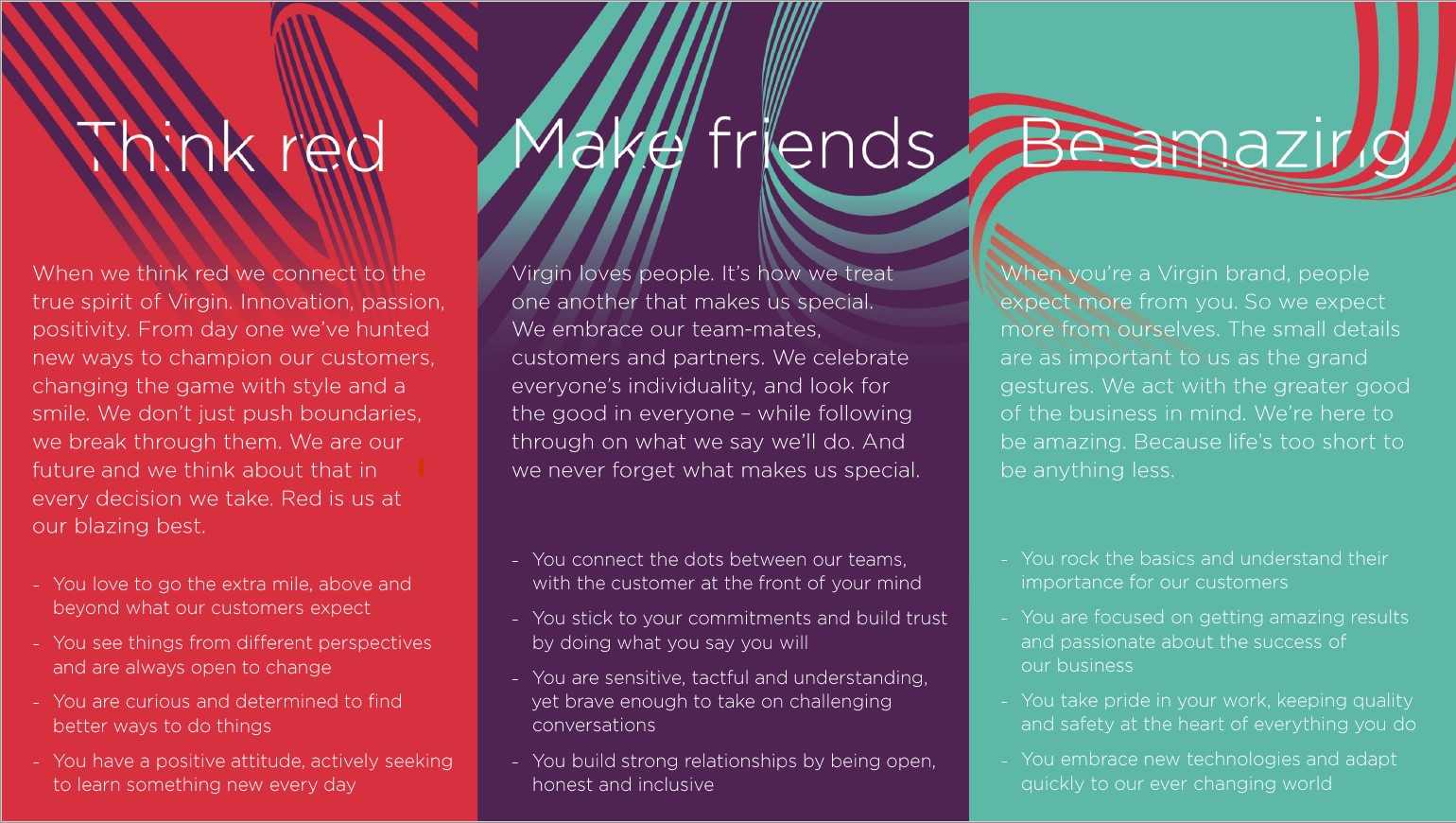 Our people & networks
At Virgin Atlantic, we want to inspire everyone to take on the world, championing inclusivity, activism, and challenger spirit. It guides us in everything we do as we strive to make progress on the issues that matter most. We know difference is a strength, enabling us to be a force for good for our employees, customers and communities. We aim to be an employer of choice, and our purpose, the belief that drives us, is that everyone can take on the world. We're committed to bringing together a workforce that reflects our society, creating an environment that supports diversity, equity and inclusion, and allowing all our people to bring their whole selves to work.
Supported by their own Executive Ally, our four employee networks are employee-led communities where our people can connect, celebrate and support each other. The networks work together to raise awareness of Diversity, Equity and Inclusion across the business and, through regular conversation, inform the actions we need to take as an organisation to create an environment where everyone feels they belong.
Our VALUED network stands for Virgin Atlantic Loves Unity and Ethnic Diversity. Our VALUED network exists to create an environment that champions and supports those previously underrepresented, creating long-lasting cultural change, where perceptions will change, and a culture of togetherness and inclusivity will thrive.
We value diversity at Virgin Atlantic, and that includes disability too. Our Disability engagement network (DEN) is there to support our people who have visible and/or non-visible disabilities.
Our PRIDE network is dedicated to creating an inclusive environment for our LGBT+ people and their allies. We work closely with our PRIDE network to champion LGBT+ rights, including the sponsoring of Manchester Pride and our annual sponsorship of the Attitude Awards to celebrate success in the LGBT+ community. 
Our Scarlet network is committed to supporting the advancement of women throughout Virgin Atlantic by providing regular networking and skills development sessions. While it aims to increase female representation across VAA, everyone is welcome to join.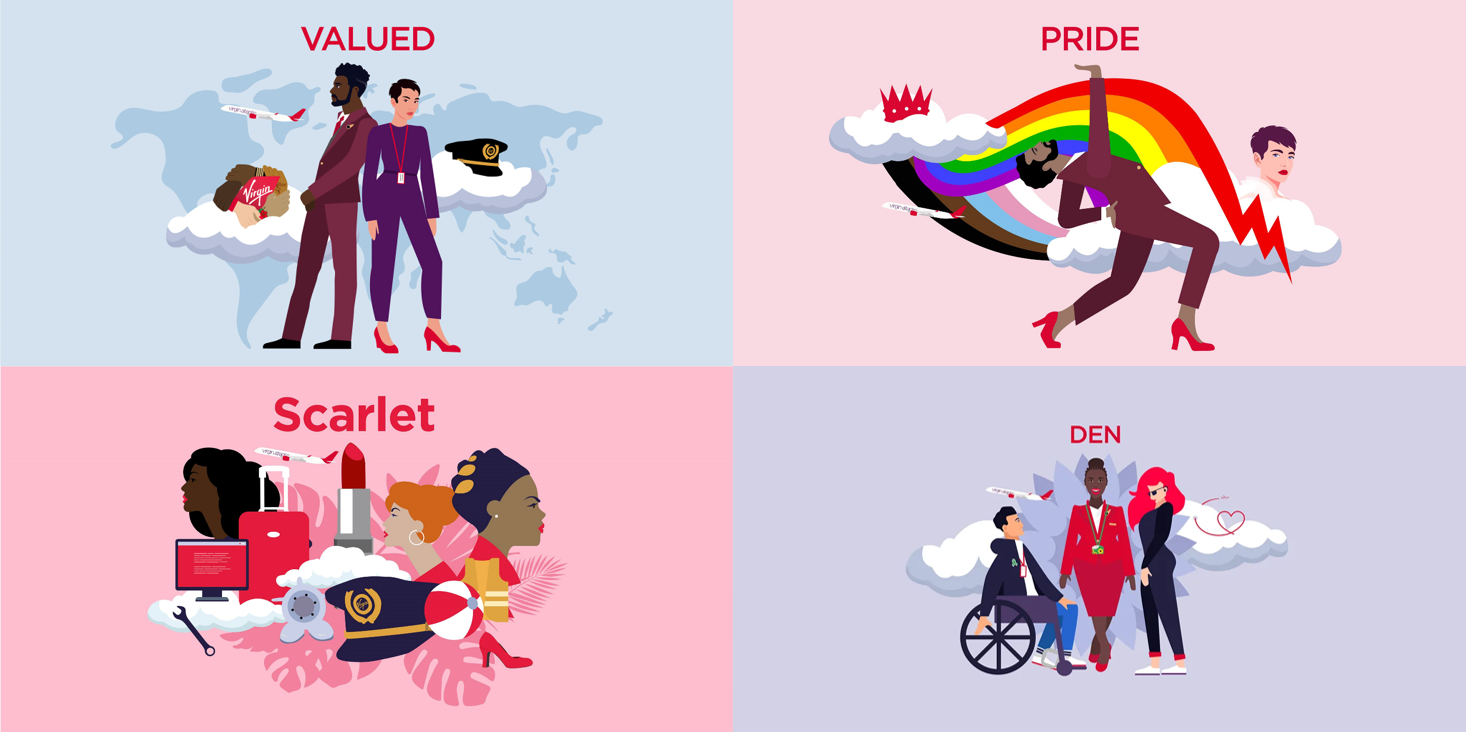 The full package
We think working in our Virgin Atlantic contact centre is incredible enough already. We work hard and play even harder, so we know our fantastic colleagues deserve more than a few perks here and there.
We provide a flexible balance between home and office-based working, so after successfully completing your eight-week induction, your working week might look like two days in the office and three days from home.
Up to seven flights a year to any of Virgin Atlantic's global destinations (did someone say Vegas?)
Generous contributory pension scheme
Outgoing, a high-energy work environment that supports diversity, equity, and inclusion and encourages you to bring your whole self to work.
Continuous mentoring and development through a dedicated development programme to support your career progression.