You are here
Claire's Accessories
Claire's Culture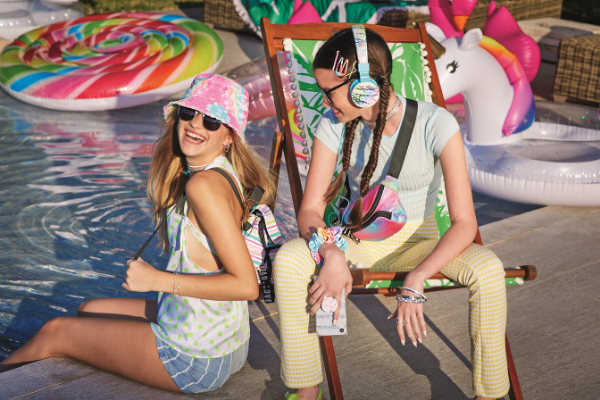 We're proud that Claire's is one of the most loved accessory brands in the world, and doubly proud that Claire's stands for fun, innovation and creating memories for our families. This not only applies to our product and store experiences but also to our work place culture.
You can feel the energy as soon as you walk through our doors; our passion for Claire's is contagious! We love fashion, fun and innovation, we love retail, and we love our people. We love that we're always changing and finding better ways to surprise and delight our customers. Every day at Claire's is new and exciting, just like our products!

Working at Claire's
Claire's gives you the opportunity to be part of a growing Global brand with over 9,000 stores in 47 countries around the world – so many opportunities for those that shine!
The chance to be a part of a fun, fast-paced, challenging and constantly evolving environment - a day at Claire's is never boring! It's a great opportunity to create lasting memories for thousands of people, and to make them smile every day!
We're big fans of promoting from within and want to help YOU shine! With on the job training and mentoring we'll be there every step of the way with exciting opportunities for you to sparkle and shine!

Commitment
Our heartfelt commitments to our customers and their families ground everything we do at Claire's. We'll be honest, decent, and consistent. We will always have our customer's safety and well-being as our main concern. No product will hit our shelves without ensuring it meets all regulations. We'd rather a product be safe than first to market.
We will promote empowerment, kindness, and friendship. We will promote diversity and equality. We will not alter the bodies of the girls in our imagery. We believe in real girls and we commit to healthy and realistic beauty standards. We will partner with causes that matter to you. Over the last 5 years, we've raised and donated over $14 million to charities dedicated to causes such as childhood illness, child welfare, girl empowerment, and anti-bullying.
From our Global Senior Management Team to the faces of our brand, our vital Store Colleagues. Our teams are amazing here at Claire's and our
people are what make us stand out from the rest!